September Tour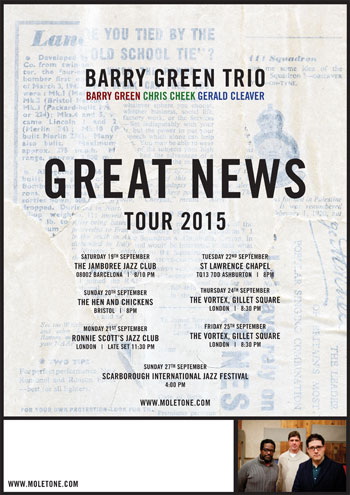 Celebrating my new album Great News with Chris Cheek (sax) and Gerald Cleaver (drums). Starting at the Jamboree, Barcelona and ending a week later at Scarborough Jazz Festival. See full dates.
Great News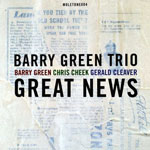 My new album Great News will shortly be released on the Moletone label. With Chris Cheek (tenor saxophone) and Gerald Cleaver (drums). 
Chasing Rainbows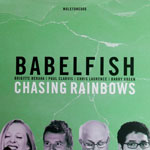 The new album from Babelfish is available now on the Moletone label. With Brigitte Beraha (voice) Barry Green (piano) Chris Laurence (double bass) and Paul Clarvis (percussion). 
Listen to extracts from Chasing Rainbows.
News for 2014
Unpublished
Starting 2014 by recording two new trio records for Moletone records in NYC at Systems two studios,Brooklyn - one with Tom Rainey and Drew Gress, the other with Chris Cheek and Gerald Cleaver. WATCH THIS SPACE!
Also... new website and blog coming in 2014!